All of our programs are multifaceted and address the three Pillars of Physical Activity, Nutrition and Mentality.
Every plan is personally crafted to enable you to achieve your immediate and long-term goals.
It is time to get off the merry-go-round of failed diet and exercise programs and make a real, lasting change today.
It is time for unprecedented body re-composition, sustainable weight loss, substantial increases in muscle mass, gaining flexibility and mobility, taking control of your pain and reducing your stress, anxiety and depression.
It is time to Live your Life, we are here to help!
Your personalized plan encompasses all three major Pillars focusing on your current specific needs while helping guide you through the transition that will take you to your desired future goals.
Multi-Phase
We utilize an extensive series of diagnostic tools and collaborate with you to establish your current state.

Short term milestones or stepping stones, provide measurable progress you can realistically achieve in 30 days or less.

With each success we work with you to evaluate, analyze and adapt your personalized program to achieve your next milestone on your way to lifelong success.
Multi-Pillar
Your personalized program is comprised of 3 interwoven Programs: a Mind Program, Physical Program and Nutrition Program.

Every personalized program addresses the requisite balance between and within the Three Pillars that is needed for you to achieve your goals.

By achieving that balance, you will be able to achieve your goals and then you will have achieved an Optimally Balanced life.
---
* Optimally Balanced™ does not guarantee the availability classes, groups, lectures or other inventory. Availability may change over time, including during any given membership cycle. The type, quantity, allocation and availability of classes, groups, lectures or other inventory offered are determined by Optimally Balanced™, in its sole discretion. Seating is limited by event and is issued on a first come basis. Optimally Balanced™, at times may reserve spaces and allocate them at its discretion. As such, Optimally Balanced™ can certain steps to release, promote and otherwise make available inventory at varying times and in an ongoing and evolving way. Optimally Balanced™ reserves the right to change from time to time the number of eligible classes, groups or lectures a member can attend per membership cycle, membership plan or otherwise. Please note that eligible classes, groups or lectures not used during a membership cycle are forfeited, and will not be exercisable in the next cycle.
** Membership discounts apply to sale and regular prices only. Membership plans discounts exclude and cannot be applied to any Membership subscription purchases, renewals, upgrades or transfers. In most cases the membership discount cannot be used in conjunction with coupon and/or other special offers, if the membership discount can be used with a coupon or special offer the coupon or special offer will be clearly marked as such. Any coupon or special offer that does not explicitly state that it can be used in addition to the membership discount cannot be used in conjunction with the membership discount. If a coupon or special offer excludes the membership discount, the member will receive the lowest purchase price after applying either: the membership discount, the coupon or special offer. Please contact us if you have any questions regarding the use of a coupon or special offer in conjunction with a membership discount.
***The Ultimate Level Program gives you priority access to all OB Events and OB Exclusive Events. For any questions regarding the ability to register for or attend any event please refer to our policies on events and event attendance.
****The Ultimate Level Program includes four 15 minute Live Coaching sessions, covering all three pillars or in any specific pillar. You are responsible for scheduling the sessions. Unused sessions or missed sessions are not refundable and can not be made-up or carried over. The sessions can not be refunded or exchanged for value.
Contact us for more information.
Your Personalized Plan Includes
Focuses on addressing the Physical Pillar
Flexibility & Mobility
Core Stability
Muscular Strength & Endurance
Cardiovascular Endurance
Body Composition & Body Fat Composition
Focuses on addressing the Nutrition Pillar
Helping you understand and regulate your diet and intake to support your Body and Mind goals
Includes both detailed and simplified tracking and analysis
Education and guidance regarding supplements
Focuses on addressing the Mind Pillar
Our thoughts, emotions, degree of mindfulness, memories, stress level, life outlook and the interaction of all of these factors
Modules on the basics of feelings, negative and positive thoughts, formation of habits, and stress reduction
Coaching groups and personal coaching sessions to help explore current and historical factors that impact your nutrition, physical activity and/or mentality
Our process is dynamic, fluid, responsive and agile in its implementation. What this means is simply that we work with you every step of the way evaluating your results, analyzing your progress, and adapting and evolving your personalized Programs.
The process begins with the initial discovery period.  During the diagnostic phase we work with you to establish your ultimate goal and to establish monthly milestone goals.  We also track your current levels of nutrition and fitness and assess different mind aspects such as stress level.  The process continues with the development of a personalized plan that is then implemented and supported. Together we track your progress and make adjustments  on an ongoing basis.  At every milestone we evaluate and modify your personalized plan so that you achieve your goal as seamlessly as possible.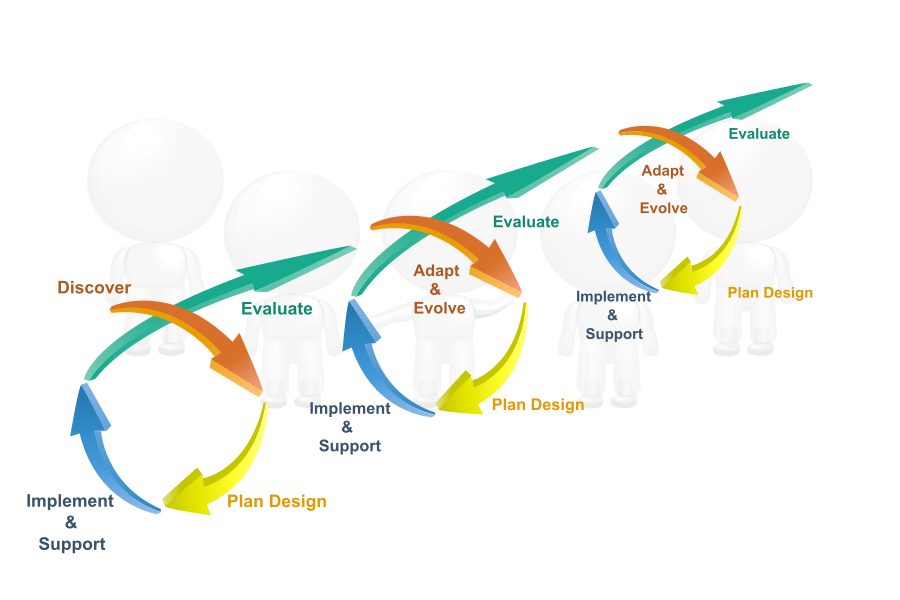 Additional Tools and Options for Success
Live 1 on 1 Coaching (In Person, or via Video Chat)
Overall Coaching addressing all Three Pillars and working with you on your Personalized Program. Specialized Coaching focusing on specifically addressing one of the Three Pillars:
Body (physical training)
Nutrition (nutrition coaching)
Mind (cognition coaching)
Support Groups
Changes to our level of activity, nutrition and thinking patterns can be intimidating or overwhelming.  Our groups provide support and companionship.  You are not on this journey alone!
Moderated support forums
Moderated online support discussion groups
A safe place to connect with others whom are also on a similar journey.
A safe place to share your achievements and interact with your peers.
Lecture Series Discussions
Lectures are provided on a variety of topics related to different aspects of the 3 Pillars. They are designed to provide a greater level of understanding into the Pillars and generally expand your knowledge on a variety of health related topics. The more you truly appreciate how your body works, how different aspects of nutrition help you, how your mind can support your fitness goals, the closer you will be to finding your optimal balance.
Your coach(es), the Group Classes, Lecture Series and Library are focused on helping create an awareness and understanding of the interdependence of the 3 Pillars.
These resources are all designed to complement and work cohesively with your personalized program to help your on your journey.